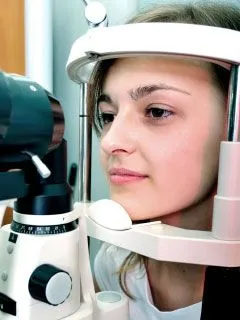 At Brier Creek Vision Care, we strive to provide comprehensive, primary eye care for the whole family. Preventative and routine eye exams are important to maintaining good eye health. Often, eye and vision problems do not have obvious symptoms or signs, but are easily diagnosed by a licensed optometrist. By diagnosing eye and vision conditions early on, our optometrist is able to provide treatment options and, in many cases, restore vision or prevent vision loss. The American Optometric Association recommends yearly or bi-yearly eye and vision exams, depending on whether you are at-risk or not.
Testing for More than 20/20
20/20 just means that the person can clearly see a certain letter on the standard eye chart (equivalent to what a person with normal vision should be able to see at 20 feet). There's so much more to healthy vision than 20/20! Our comprehensive vision exam goes beyond 20/20 to evaluate many important visual skills, such as:
Visual Acuity at Near
Is vision clear and single at close distances? Clear sight at short distances is critical to reading, writing, close work, computer use, etc.
Eye Teaming Skills
Do the two eyes aim, move, and work as a coordinated team? Weaknesses in binocular (two-eyed) vision and eye teaming skills can cause numerous difficulties, including convergence insufficiency and poor depth perception.
Eye Focusing Skills
Do the eyes maintain clear vision at varying distances? Rapid, automatic eye focus adjustment is critical to learning, reading, writing, sports, etc. Deficiencies can cause visual fatigue, reduced reading comprehension, and/or avoidance of close work or other activities.
Eye Movement Skills
Do eye movements show adequate muscle control, tracking, fixation, etc.? In the classroom, normal eye movements allow rapid and accurate shifting of the eyes along a line of print or from book to desk to board, etc. In sports, efficient eye movements contribute to eye-hand coordination, visual reaction time, and accurate tracking.
Reversal Frequency
Is confusion or reversal of letters or words (b, d; p, q; saw, was; etc.) within the normal ranges for a given age? Past the age of seven, frequent visual and written reversals might indicate a visual perceptual dysfunction.
Above are just a few of the many visual skills evaluated during our comprehensive vision exam. In addition, the health of your eyes, inside and out, is carefully evaluated for such problems as cataracts, glaucoma, hypertension, diabetes, etc.
Eye Exam and Consultation
During an eye exam, Dr. Susan Durham, Dr. Esther Nakagawara and Dr. Brandee Nelson will ask you questions about any symptoms or issues you are experiencing, medications your are currently taking, any blurry vision, your work environment, and your overall health. Family history and previous eye or vision conditions will also be discussed during this part of the examination. Dr. Susan Durham, Dr. Esther Nakagawara and Dr. Brandee Nelson will consider this information when determining any treatments or recommendations.
Vision Exams for Children
The American Optometric Association recommends that pre-school children receive a complete vision exam at the ages of six months, three years and five years. It is particularly important that a child have a complete evaluation in the summer prior to entry into Kindergarten. While in school, yearly evaluations are recommended.
Vision Exams for Adults
The American Optometric Association recommends a yearly eye exam for adults -- not only to detect and to diagnose vision changes or problems -- but, also to maintain eye health. For example, glaucoma, a disease caused by increased pressure in the eye, commonly goes unnoticed by adults. Regular vision examinations are also important for the prevention of vision problems created or aggravated by today's academic and professional demands.
21st century lifestyles demand more from our vision than ever before. Adults in our technological society constantly use their near vision at work and at home. Environmental stresses on the visual system (including excessive computer use or close work) can sometimes induce headaches and/or visual difficulties which can be effectively treated with corrective lenses and/or Vision Therapy.
Vision Testing
Regular vision testing and evaluations ensure that you always have the clearest vision possible. Our Raleigh optometrist provides regular vision acuity tests as part of a comprehensive eye exam. Dr. Susan Durham, Dr. Esther Nakagawara and Dr. Brandee Nelson will measure how each eye is seeing by using a wall eye chart and a reading eye chart. The results of these tests are portrayed as a fraction, with 20/20 being the standard for normal distance and reading vision. Depending on the results of your vision test, Dr. Susan Durham, Dr. Esther Nakagawara and Dr. Brandee Nelson may prescribe corrective glasses, contacts, or eye exercises.
Eye Function Testing
In addition to vision testing, an eye exam in our Raleigh office includes testing eye functionality. Our optometrist performs several tests to evaluate depth perception, color vision, eye muscle capabilities, peripheral vision, and responsiveness to light. Several other simple tests are completed to determine whether the eyes are focusing, moving, and working together properly. The test results enable Dr. Susan Durham, Dr. Esther Nakagawara and Dr. Brandee Nelson to diagnose any underlying conditions that may be impairing the eyes ability to focus or work together.
Eye Health
As part of a comprehensive eye exam, our Raleigh optometrist examines the overall health of the eye through a visual examination and tonometry. Dr. Susan Durham, Dr. Esther Nakagawara and Dr. Brandee Nelson evaluates eye health by visually inspecting the eye and eyelids using magnification and a bright light. To examine the internal structures of the eye, we may dilate the pupils. Increased eye pressure may be an indicator of glaucoma, so we utilize tonometry to measure eye pressure. After completing these short tests, Dr. Susan Durham, Dr. Esther Nakagawara and Dr. Brandee Nelson reviews the results and discusses any necessary treatment options with you. Contact us at 919-361-2299 today to schedule a comprehensive eye exam.